Choose 'Structure Adjust' 
from the Linear Draft toolbar. Follow the prompts and select a structure to edit.

Once a structure has been selected, the 'Edit Structure' form will appear. This is the same form used when creating the structure. You are now able to edit any engineering value from within the 'Edit Structure' form.
See the examples below to see different example edits that can be made.

Changing the mast type from 254x254x732UC (OLEMI) to 254x254x73UC (Series 2).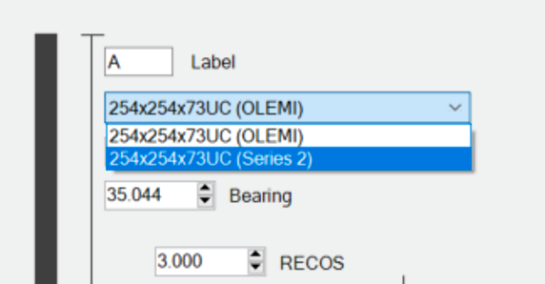 Any numeric values can be changed by clicking the upwards and downwards arrows. Alternatively, you can highlight the whole field and type in the numeric value you require.

Changing the foundation type from 610 Pile – 144 Ot to 610 Pile – 188 Ot.
N.B. When making an adjustment to a structure there is no requirement to remove any wires or equipment beforehand. The software will recognise which equipment and/or wires that are already attached and filter the available options so that only associated items can be placed together. However, if you are attempting to change the steelwork of a structure and there is an ornament attached, this will need to be removed beforehand. 

Click 'Confirm' to accept any changes that you have made, and the edited structure will be redrawn in all views of your model.